The Dow Jones Industrial Average appears poised for a major breakout opportunity in the days ahead. Here's the pattern to watch..
Double Inside Day
The daily chart of the Dow Jones Industrial Average ($DJI) clearly shows the index has experienced several days of range compression. A major breakout is usually the result of this type of behavior, so keep an eye on the Dow in the days ahead.
As a matter of fact, the Dow has formed a fairly rare price pattern that has a huge success rate - the Double Inside Bar (DIB) price pattern (also Double Inside Day or ID2). This pattern forms when the current day's price range falls within the range of the prior session AND the price range of the prior day falls within the range from two days ago.
Essentially, it's a day within a day within a day.
When this pattern develops, a major breakout usually follows. Keep an eye on the recent high (13,200) and low (13,125) for signs of an early breakout opportunity ahead.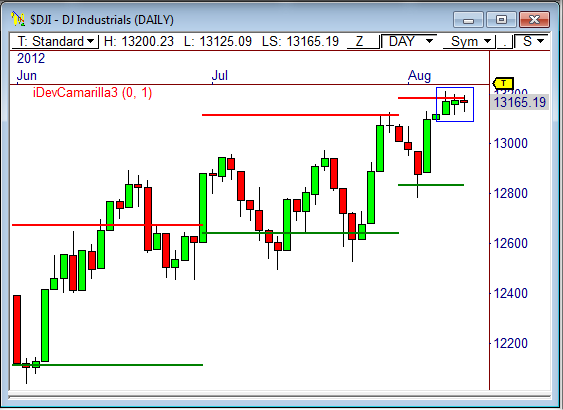 Camarilla Pivots
The daily chart also shows the Dow is currently sitting just beneath the monthly H3 Camarilla pivot point (red line), which is typically bearish. If price cannot rise above the H3 pivot at 13,185, we could see a push back toward the L3 pivot at 12,835 soon, especially if a downside break from the DIB pattern occurs.
As you can see, price has honored the monthly Camarilla pivots quite well since June. You'll notice the monthly L3 Camarilla pivot (green line) has been a great zone for buy signals during the recent bull trend.
Keep an eye on the DIB pattern, as a breakout will dictate whether we see L3 at 12,835 or H4 at 13,357 in the days ahead.
If you'd like to read more about the Camarilla Equation CLICK HERE.
Range Clues
The current 3-day price range in the Dow is just 100 points. By contrast, the 5-period 3-day average is 262 points. This means the Dow is clearly coiling for its next major move and a solid breakout could be around the bend.
Again, watch 13,200 and 13,125 for a potential breakout tomorrow.
Let's see how this one plays out!
Frank Ochoa
Follow Frank on Twitter: http://twitter.com/PivotBoss